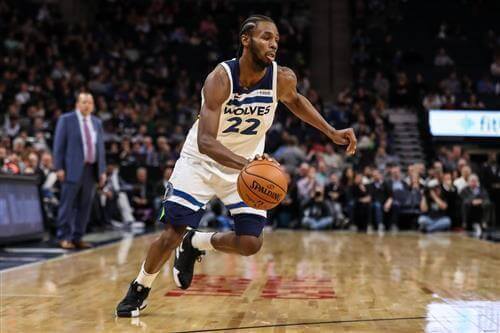 Last week's NBA Draft set the stage for what promises to be an active offseason around the league. We already know how things might have changed for free agency after the draft.
It's now time to look at NBA players who now have a better chance of being traded following the draft.
From an expensive wing in Atlanta who has been on the trade block for some time to a future Hall of Fame guard in Houston, here's a look at 10 of those players.
Kent Bazemore, Atlanta Hawks
Atlanta flirted with the idea of using one of its initial three first-round picks to rid itself of Bazemore's bloated contract. The 29-year old shooting guard is owed $19.27 million next season.
Though, he's also an expiring contract. That could be attractive to other teams, especially if Atlanta is willing to take on a longer-term deal. It's not like he's terrible, either. Bazemore averaged 11.6 points last season and has proven to be a consistent threat from the perimeter.
Andrew Wiggins, Minnesota Timberwolves
The decision to trade up for Jarrett Culver in the NBA Draft might very well expedite Wiggins' departure from Minnesota. Sure one of them could play the two, but the potential emergence of 2018 first-round pick Josh Okogie complicates things further.
Wiggins' regression and bloated five-year, $147.7 million contract makes a trade hard. The Wolves would have to take on other bad contracts to make this work. But they need a big next to Karl-Anthony Towns. It's also important to note that new Wolves president Gersson Rosas has not closed the door on this possibility.
Dion Waiters, Miami Heat
Waiters is one of multiple Heat players we expect the team to put on the block this summer. Unlike the contracts of Goran Dragic and Hassan Whiteside, Waiters could be of interest to other teams. He fell out of favor in South Beach with the organization believing the veteran was out of shape.
Even then, Waiters has averaged 14.0 points on 37 percent shooting from distance over the past three seasons. Look for the Warriors to potentially come calling should they re-sign Klay Thompson. The injured-player exception would enable Golden State to add Waiters while Miami cuts costs.
Josh Jackson, Phoenix Suns
A recent off-court incident allegedly involving his young son could impact Jackson's overall future in the NBA. But if that were to pass, there's no real reason to believe that the former top-four pick will return to Phoenix next season.