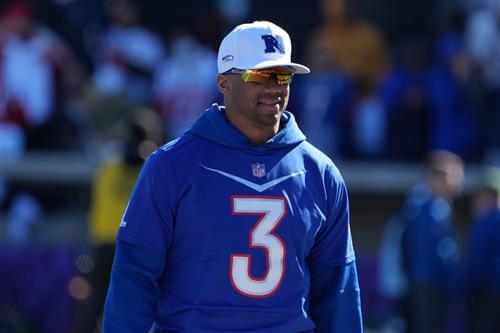 Who doesn't love fearless predictions? Especially in the dog days of May, with the draft now a week ago and real football still months away? The prime free agents are already signed. We've seen more blockbuster deals than anyone could have anticipated. Rosters are well taking shape. We can start to think we know things about the 2022 season, right?
Certainly, more information will be available next week when the schedules are revealed. It tends to be a significant factor, as it's not just who you play, but when you play them. But for these purposes I don't believe it would sway much. There are some things I am starting to believe – or talk myself into – and some hunches I am willing to play, and what better time than now to share them (and open myself up for ridicule and derision I the process!).
So after much deliberation and consternation, I am willing to put these 10 bold predictions into the universe. Feel free to throw them back at me:
1. Russell Wilson, 2022 MVP
I am Team Russ. Always have been. Always will be. Dudes like this don't get dealt in their prime. And make no mistake, he is still very much in his prime. This is the best cast he has had around him in a long time. This is a coach who is going to be the opposite of Pete Carroll and will be skewing everything possible in favor of the passing game. It's go time. They have speed. They have big targets. They will have a scheme that has worked wonderfully well in Green Bay and with the L.A. Rams, among others. I see Denver as being a very real factor in a loaded AFC, and Russ is going to get his cookies.
2. David Ojabo will have a monster season … in 2023
I love the Ravens' selection of the Michigan pass rusher in Round 2 as much as any pick in this draft. He is a top 10 talent and he has natural pass rush instincts and moves and a ceiling as high as any pass rusher in this draft, including the top two picks. He will be an instant fit in Baltimore's evolving scheme under new coordinator Mike Macdonald. He is going to be the first impact pass rusher the Ravens have developed and cultivated since Terrell Suggs. But it ain't gonna be this year. At least I figure it won't be. After his horrible pre-draft injury, and given the Ravens' massive injury woes in recent years and multiple issues with players returning from surgery, a redshirt year and a monster season a year from now makes sense to me.