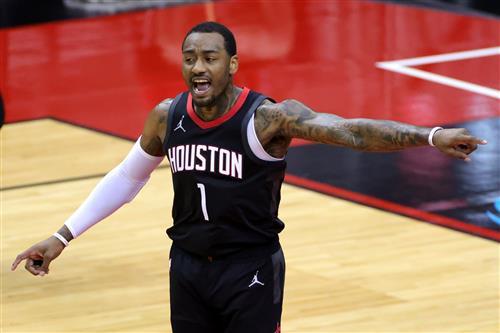 The Houston Rockets are reportedly on the hunt for a new team for former All-Star point guard John Wall.
Shams Charania of The Athletic and Stadium broke the news Tuesday.
For most of the NBA's top tier of moneymakers, such news might be accompanied by a wave of reports on potential suitors and fake trade ideas. But no player with a top-10 salary-cap hit would be harder to trade than Wall.
At $44.3 million, Wall is tied with James Harden for the second-highest salary in the league next season. And he isn't on an expiring contract, either. He has a $47.4 million player option in 2022-23 that he's a virtual lock to pick up.
Teams can stomach that kind of financial burden for superstars like Stephen Curry, Giannis Antetokounmpo or LeBron James, but it's hard to imagine many lining up for Wall. The Rockets also have "no buyout plans" at the moment, according to Charania.
Unless that changes, Wall's options figure to be severely limited.
After missing all of the 2019-20 season to recover from an Achilles tear, Wall appeared in only 40 games in 2020-21. His per-game averages of 20.6 points, 6.9 assists, 2.0 threes and 1.1 steals look fine, but his effective field-goal percentage was eight points below the league average. The explosiveness that once made him one of the NBA's most exciting defenders and end-to-end threats is nowhere near where it was.
Any team that acquires him at this point will likely insist on sweeteners in the trade. In other words, the rebuilding Rockets might have to attach draft picks to Wall's contract to unload it.
That makes it tough to come up with realistic destinations for Wall when scanning the NBA landscape. Squint hard enough, though, and a few teams might make sense.
Orlando Magic
The Orlando Magic having any interest in John Wall would likely imply a few things.
First, they'd need to be out on Markelle Fultz, whom they just signed to a three-year, $50 million extension back in December. They could cobble together enough salary to send Houston for Wall by combining Gary Harris ($20.5 million) with either Fultz ($16.5 million) or Jonathan Isaac ($17.4 million).
Although Isaac hasn't played in an NBA game since January 2020, moving him for Wall feels like a nonstarter. He's shown hints of Andrei Kirilenko-like defensive versatility when healthy. Trading Fultz and Harris, a 27-year-old shooting guard who likely doesn't have a long-term future in Orlando, makes far more sense.