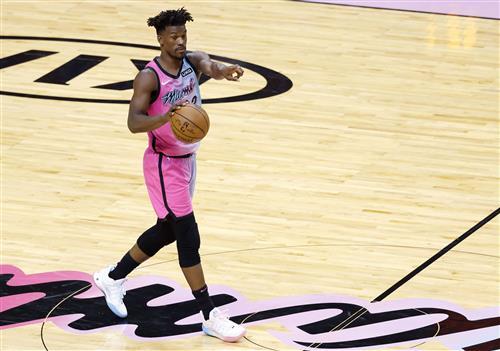 Since Jimmy Butler first joined the Miami Heat in 2019, he's been the star of the franchise. After signing a four-year $184 million contract extension over the summer, Butler put a lock on that role through the 2025-26 season.
The 31-year-old wing led the Heat all the way to the NBA Finals during his first year with the franchise, and following the Heat's first-round sweep in the playoffs last season, he helped transform the roster during the offseason, recruiting his best friend, six-time All-Star Kyle Lowry to join him in Miami.
While the postseason was frustrating, Butler enjoyed the best regular-season campaign of his career, averaging 21.5 points, 6.9 rebounds, and 7.1 assists per game while shooting 49.7% from the field and 24.5% from deep.
Butler's new contract shows that Heat president Pat Riley and head coach Erik Spoelstra believe he'll not only replicate that kind of performance in next season but for the foreseeable future.
However, should the beautiful marriage between Butler and the Heat fall apart, or if the Marquette alum's performance starts to drag as he ages, it will be incredibly difficult to move the five-time All-Star, Hoops Hype's Yossi Gozlan reported:
Jimmy Butler has proven he's worth the maximum contract he's currently on. He added an additional three years projected at $142 million that would pay him $51 million in his age 36 season.