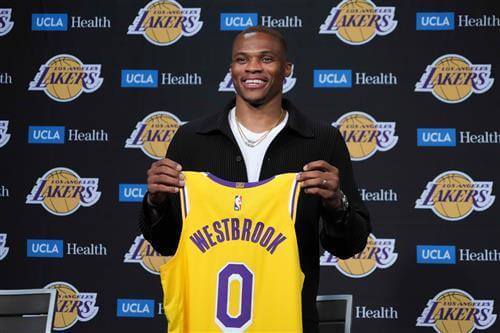 The Los Angeles Lakers pulled off arguably the biggest trade this NBA offseason when they acquired Russell Westbrook from the Washington Wizards. Westbrook is coming back home to the west coast, while Los Angeles sent most of their depth to Washington.
To land Westbrook, the Lakers traded Kyle Kuzma, Kentavious Caldwell-Pope, Montrezl Harrell and the 22nd pick in the 2021 NBA Draft. Following that, Rob Pelinka got to work signing players using virtually nothing more than veteran's minimum deals.
Kendrick Nunn was the only player signed away from another team that landed more than the minimum. He agreed to a two-year, $10.3 million deal, which is less than what many analysts believed he would receive annually. Talen Horton-Tucker signed a three-year, nearly $31 million deal.
After that, it was all minimum deals. Wayne Ellington, Carmelo Anthony, Trevor Ariza, Dwight Howard, Kent Bazemore and Malik Monk all signed for the veteran's minimum. Rajon Rondo and DeAndre Jordan both did as well after receiving buyouts from the Memphis Grizzlies and Brooklyn Nets.
Los Angeles is hoping that Westbrook, LeBron James, and Anthony Davis can all mesh, but if they don't, there are very few paths for the Lakers to alleviate the issues. One way could be making a trade with the Cleveland Cavaliers.
What could trade between the Lakers and Cavaliers centered around Russell Westbrook look like? Let's check out this hypothetical deal.
Cleveland Cavaliers Receive: G Russell Westbrook, G Kent Bazemore
Los Angeles Lakers Receive: G Collin Sexton, F/C Kevin Love, F Cedi Osman
This would be the second blockbuster trade that the Los Angeles Lakers pulled off this offseason involving Russell Westbrook. He heads back to the Eastern Conference in this deal, landing with the Cleveland Cavaliers.
There's a lot to digest in this trade, which is motivated mostly by salary.