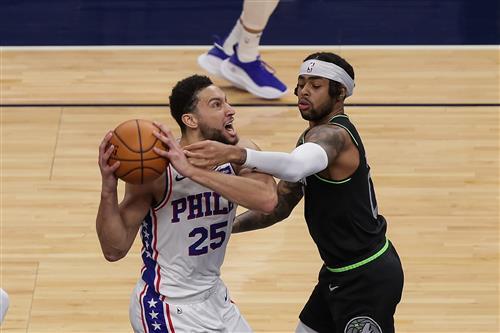 Aside from Alex Rodriguez joining the ownership group that is buying both the Timberwolves and Lynx, the Minnesota Timberwolves really have not been in the news much this NBA offseason.
They did make a move to bring in Patrick Beverley and Taurean Prince at the expense of Ricky Rubio, Jarrett Culver, and Juancho Hernaomgez. However, Minnesota is still looking for ways to get Karl-Anthony Towns the help he needs.
In six full seasons now, Towns has only been to the playoffs with Minnesota once, and his team has gone 185-279 since he was drafted 1st overall in 2015. From Zach LaVine to Jimmy Butler to now D'Angelo Russell, the Timberwolves have searched for the right All-Stars to pair with their young leader, which is why they could look to make one last big move in attempts to become an eye-opening team in the Western Conference.
Ben Simmons has been made available in trade talks all offseason long, and the Timberwolves have remained highly interested in him for the last month or so now.
The Philadelphia 76ers have stated that they want a big return for Simmons, including another All-Star talent, so a third team may very well have to get involved in any deal that would send the Sixers' young talent to Minnesota; but could the Timberwolves actually bring in the 3x All-Star?
Pairing Simmons with Towns creates a tall and strong one-two punch in the Western Conference, and with other young talents on the Timberwolves' roster, they may finally be able to climb their way out of the bottom of the standings out west. It would take a lot, but Minnesota remains highly interested in trading for Ben Simmons.
So what could the Timberwolves potentially offer up if they did not get a third team involved in a Simmons trade scenario? Let's take a look at the best trade Minnesota can offer Philadelphia in exchange for Ben Simmons.
Minnesota Timberwolves Receive: G/F Ben Simmons, G/F Danny Green
Philadelphia 76ers Receive: G D'Angelo Russell, G Malik Beasley, F Jaden McDaniels, MIN 2023 1st Round Pick (Top-8 Protected), MIN 2025 1st Round Pick
This is a trade that we would not see until the second month of the season, as Danny Green recently signed a new two-year, $20M deal with the final year of his contract non-guaranteed.
As a result, Green cannot be traded until November 6, 2021, at the earliest, which would mean that Simmons would spend the first three weeks or so of the 2021-22 season in Philadelphia.
Given that the Philadelphia 76ers have been unable to find the right trade partner for Simmons over the last few months, it seems very likely that he could remain on the 76ers roster to begin the 2021-22 season. Whether or not he holds out and decides not to play is yet to be known, but this whole Ben Simmons trade saga is getting very intriguing.
Not only has Simmons reportedly cut off communication with teammates and Sixers' staff, but Shams Charania of The Athletic is now reporting that Simmons' time with the 76ers is coming to an end.
It appears that he is going to be on the move in the coming months, which is why the Minnesota Timberwolves could very well be the team he ends upon.
They have consistently been in contact with the 76ers and obviously have a strong interest in Simmons, which is why they will be doing what it takes to acquire him. A third or fourth team will likely be included in this deal, but this is the best trade Minnesota can offer to Philadelphia for Ben Simmons.