Just one day ago, Yasiel Puig of the Los Angeles Dodgers announced that he is going to try to cut back (or eliminate altogether) his post home run bat flips...and the North American sporting world mourned the loss. Well, good thing there are still Asian baseballers out there.

In the competitive world of bat flips, there are a pair of North American legends. Puig and David Ortiz. Puig is cutting back and Ortiz won't be hitting bombs forever, so extend your hand and welcome an instant legend to the game.
Kim Jin-Hyung plays for the Doosan Bears of the Korean Baseball Organization and late last night/early this morning he flipped his bat like a guy who'd been doing it his entire life. Instant legend. The Mike Trout of bat flipping. Call him whatever you want...just don't call him a casual home run hitter.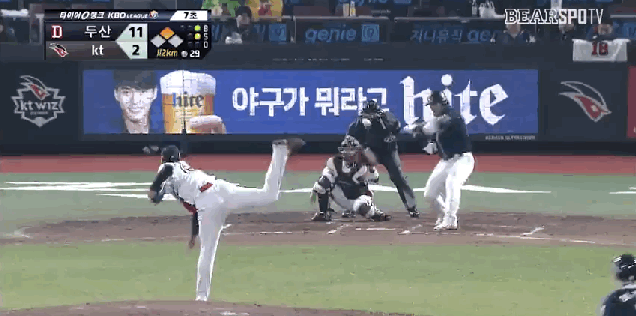 The truly amazing part of this GIF is that this was his first career home run!!!
Is he going to get better as the dingers keep piling up? Only time will tell.
The only disappointing part of the video is that we don't get to see how much distance he actually got with the flip. The velocity is clearly there so I have no doubt that he absolutely ruined the day of the Bears' third base coach.
Here are the game highlights from YouTube. You get to see the bomb from a couple of different angles, but still nothing that shows the full scope of the bat flip. Be better, Korean cameramen.
The Koreans just love the bat flip at every level. Professionals, kids, home runs, fly outs...it just doesn't matter to them.
*** Follow us on social media for exclusive content that you won't find here on Pro Sports Daily.